Detail of the air conditioned electronic system with digital hygrometer and alarm red led as signal of water lack and temperature display.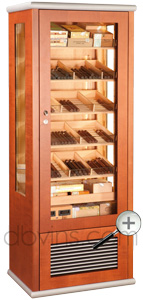 Bellevue: Cigar cellar Window for 1200 cigars
Capacity of +/- 1200 loose cigars, the capacity depend on the type of cigar.
Height : 168cm
Width : 48cm
Depth : 66cm
» Inside part, enterely made of spanish cedarwood, is conceived to change the arrangement of the 5 shelves. In the bottom part, the cellar also has 1 sliding drawer and 1 compartment for cigar boxes.
» This cigar cabinet have 3 points closing system on the door and ligthing.
» Electronic air conditioning system constantly monitors and controls the humidity level and the interior temperature, showing parameters on the front display and alarm red led as signal of water lack.
» Available in : Cherry, Walnut and Mahogany finition.
Price on 01.01.2015 :
8277 EUR, VAT & shipping fees NOT included.
All our offers are to be confirmed on pro forma.
Generally delivered within 3 and 8 weeks, please, contact us.